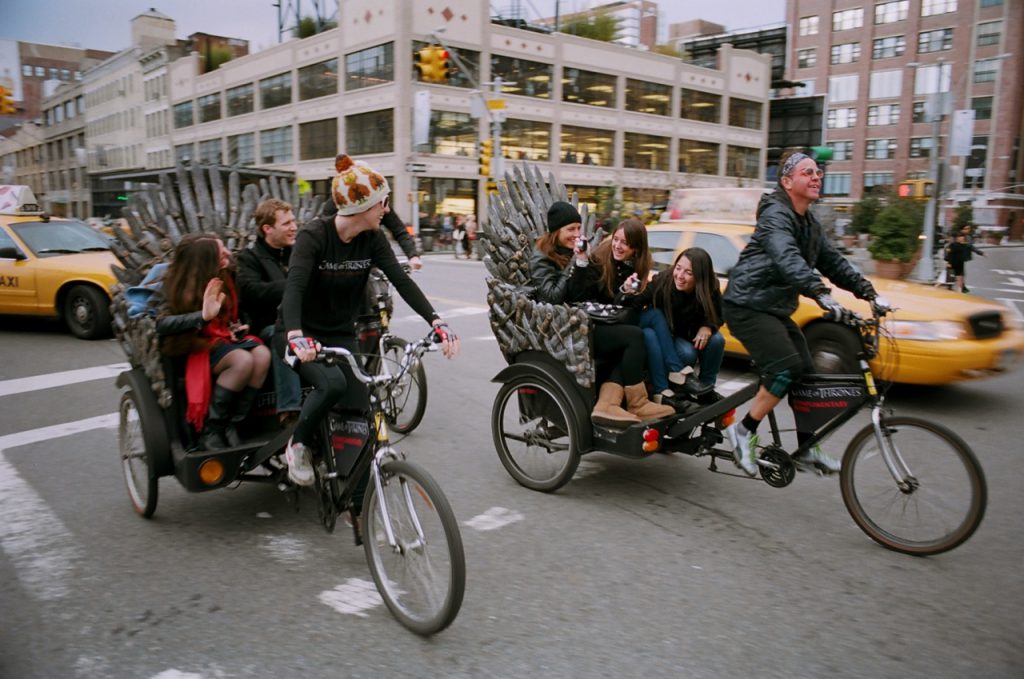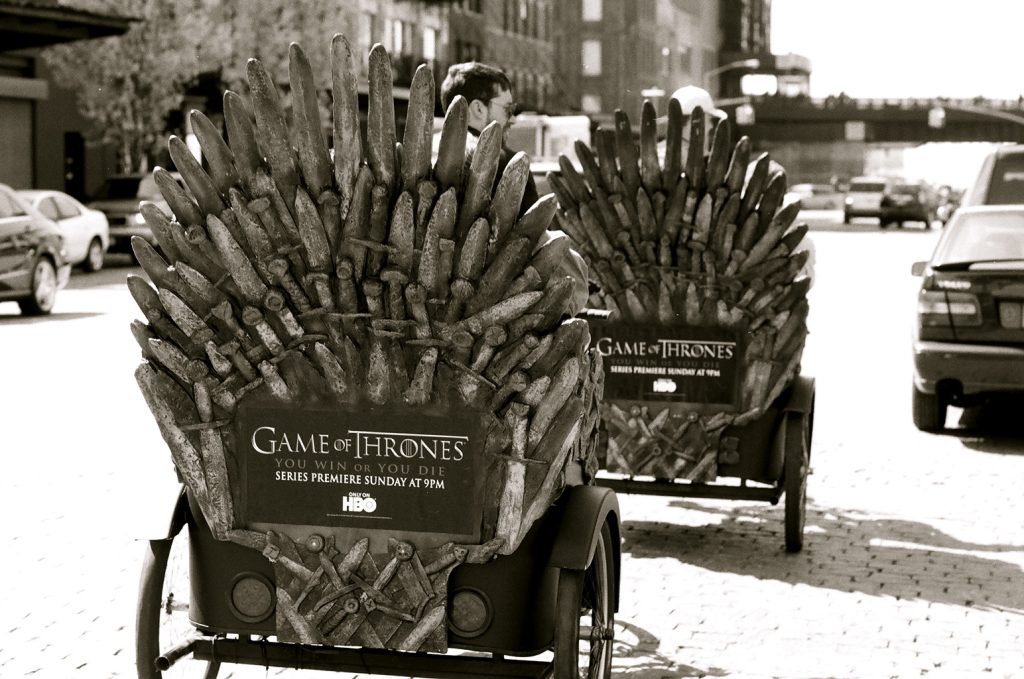 BRANDING
Pedicab advertising follows your audience unlike other forms of outdoor advertising such as billboards or bus shelters. Because of the novelty and utility of pedicabs, an outdoor advertising campaign involving pedicabs provides recognition, exposure and sustainable transportation all at once. And unlike other forms of outdoor advertising, there is of course the pedicab driver, putting a personal touch on the trip. That's why we call it performance media.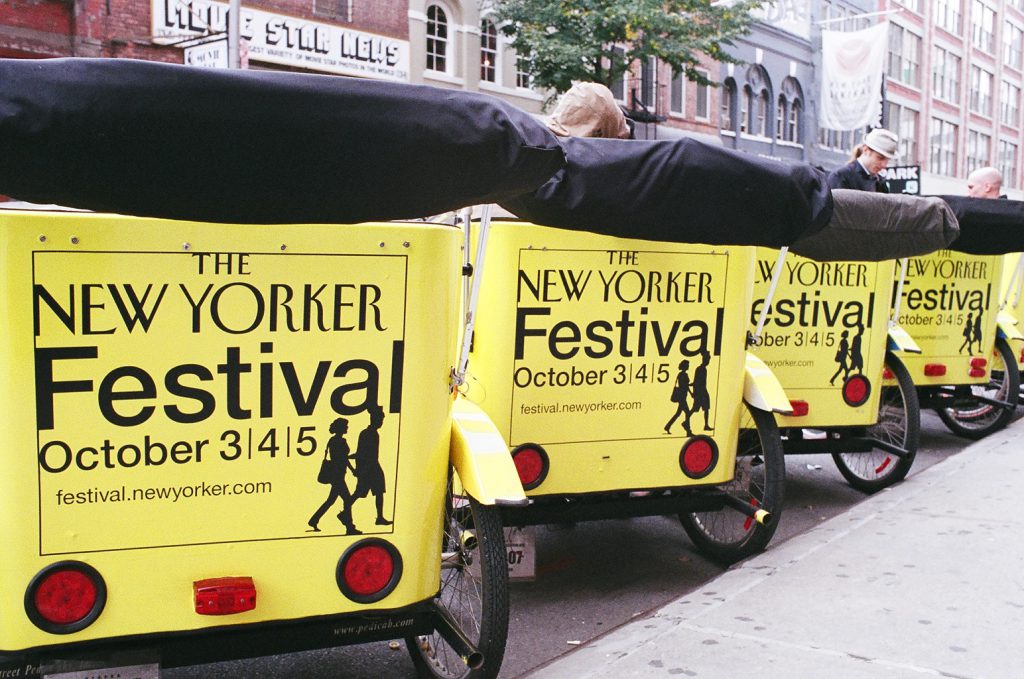 Manhattan Rickshaw Company is an industry leader in this medium, with a proven track record. Clients include: Game of Thrones, Shark Week, Axe Body Spray, Target, the New Yorker magazine, Eddie Bauer, Kate Spade, Microsoft and Altoids. We work with clients to maximize the creative potential of these vehicles and to reach an hourly impression rate of thousands of viewers. Media placement in New York City is complicated, challenging, and rewarding for those who employ clever experiential moments.
Pricing: contact us via email for quotes for special events and branding.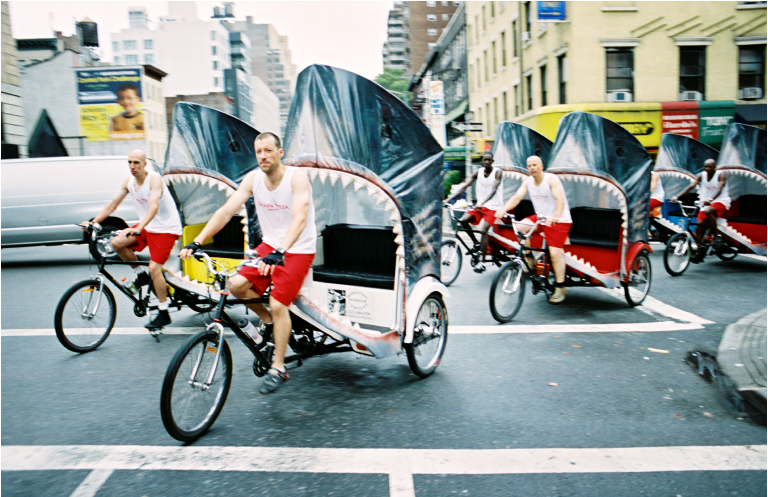 Canopy Ads use fabric printing to incorporate your brand message into a very functional part of the pedicab — the canopy. It often serves as a colorful accent on the pedicab body, which is often wrapped in a complementary color scheme.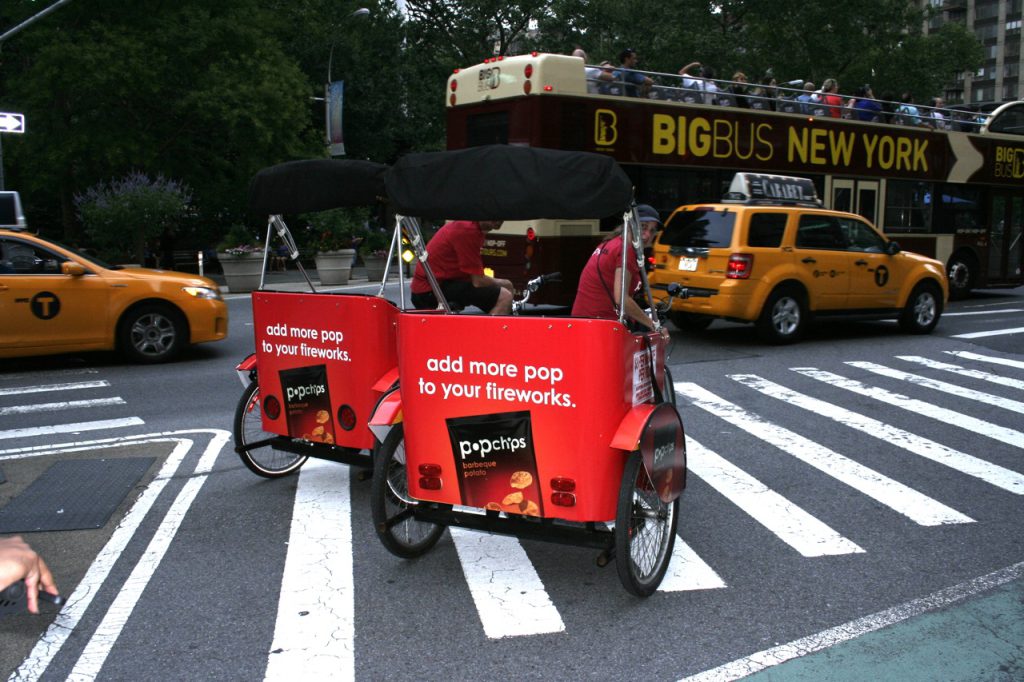 Wrap Ads cover the sides and rear and sometimes the entire cab body with a tightly fitted vinyl wrapping, color or Pantone-matched to your specific color. Then we apply artwork or up to four-color die cut vinyl lettering on top of the wrapping. This type of ad creates a significant presence on the street, a rolling billboard, a kinetic sculpture carrying your brand or logo. In addition, the vinyl wrap is very sturdy and stands up to rain, sun and wear and tear.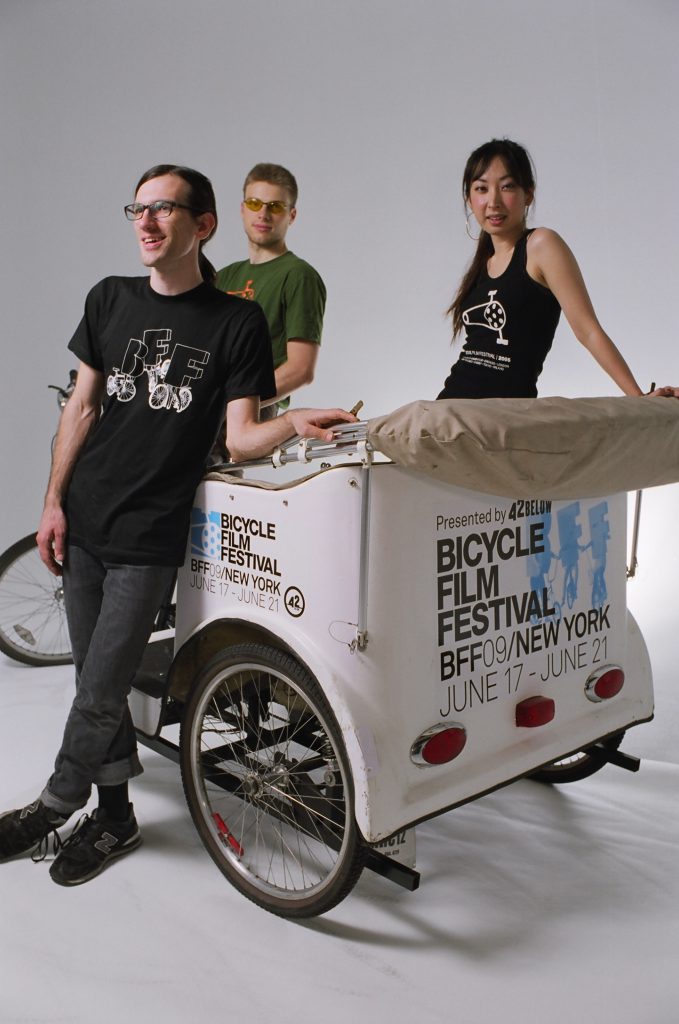 Panel Ads are frequently vinyl panels with adhesive that we apply to the sides and rear of the pedicabs. These panels can be replaced very quickly if your message changes frequently. While dimensions may vary, frequently the rear panels are 20 inches tall by 30 inches wide, and the sides are 10 inches tall by 19 inches wide.
Putting the branding practice into context, one can turn to: Emotional Branding: The New Paradigm for Connecting Brands to People as it discusses new marketing techniques, including the use of pedicabs as an advertising medium. It also contains photos of our vehicles! Amazon.com says it's "a visionary approach to building powerful brand loyalty, this groundbreaking book shows marketers of any product or service how to engage today's increasingly cynical consumers on deeper emotional levels." See:
https://www.amazon.com/Emotional-Branding-Paradigm-Connecting-Brands/dp/1581156723/ref=sr_1_1?crid=244TIBKUQOQV2&keywords=emotional+branding&qid=1643688914&sprefix=emotional+branding%2Caps%2C75&sr=8-1
https://www.simonandschuster.com/books/Emotional-Branding/Marc-Gobe/9781581156720