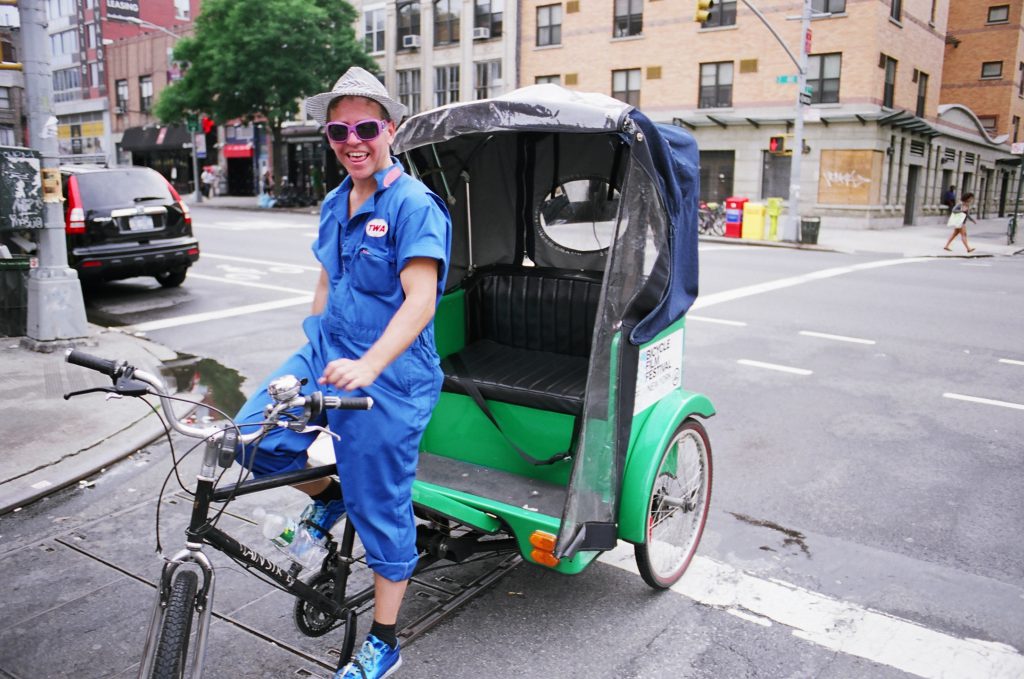 Manhattan Rickshaw Company's team of pedicab drivers is a diverse group of people coming from a variety of backgrounds, uniting around the idea that driving a pedicab can be a fun combination of environmental activism, pollution free transportation, new urbanism, and flexible income.
The main point to consider is that driving a pedicab is not a salaried or hourly paying job. Instead, you would be an independent contractor – meaning you would not be our employee. You would be your own boss and employee. In other words, you would be self-employed…aka, an independent contractor.
There is no hourly wage. No paycheck. But, on the upside, you set your own schedule, wear what you wish, determine your route, and set your own fares (within reason please, and we can guide you on this). Whatever you make while you drive, you keep and you pay to rent the pedicab daily/weekly, etc. There are other companies around the U.S. that collect a percentage of fare receipts from drivers, but this is not practiced in New York.
So…not a typical job, but then you knew that already.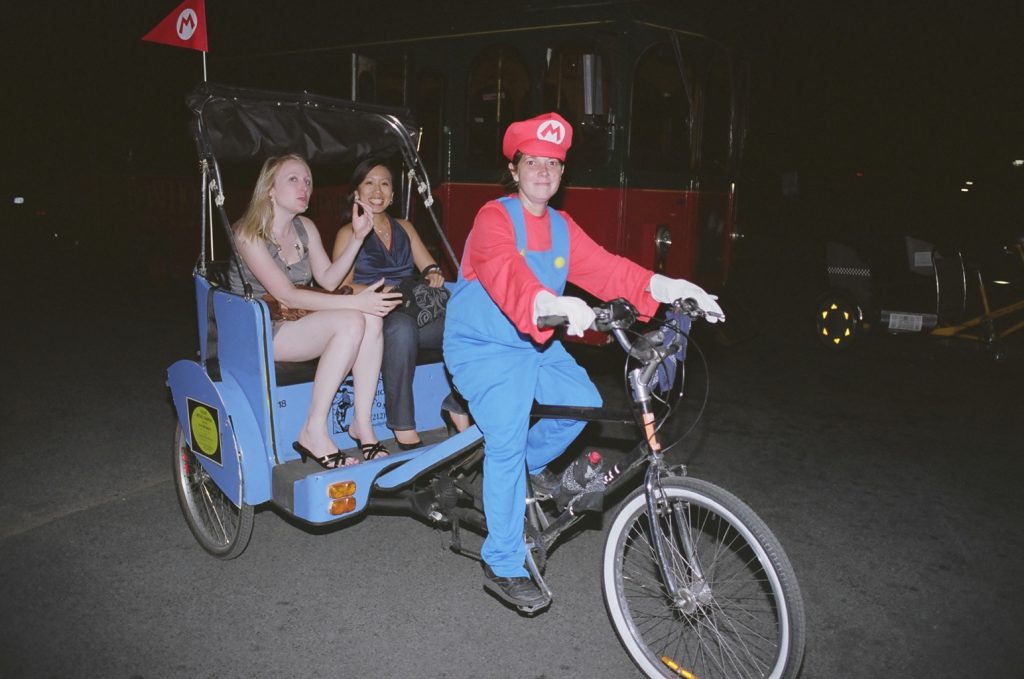 It's 100% more dynamic, and it puts you in charge. Yes, you can have slow days, sure. But in order to do well, you need to study the important destinations and monuments of New York City, learn the street pattern, which is mostly but not completely a big grid. Passengers will pick up on your confidence level and respond hopefully with tips!
The more you know your way around, the higher your earning potential as a driver. We would recommend studying a good map of New York (just Manhattan) and reading a good guide book, such as the Michelin guide to New York. Important landmarks include: Empire State Building, Times Square, the major museums, the theater district. Grand Central Station, Central Park and SoHo.
We spend a lot of time with new drivers coaching them and encouraging them to develop their skills, so do not worry. Some drivers go on to obtain their NYC tour guide license, which opens up a different avenue of guided tour rates for passengers.
But every driver agrees to drive safely and legally, and we have a driver's rental agreement that describes the responsibilities of the driver. Manhattan Rickshaw Company started offering service in Manhattan in 1995. It was the first company to bring the Main Street -brand pedicabs to NYC — to the East Coast for that matter. For us, it is both a real business and a labor of love. Maybe more of the latter.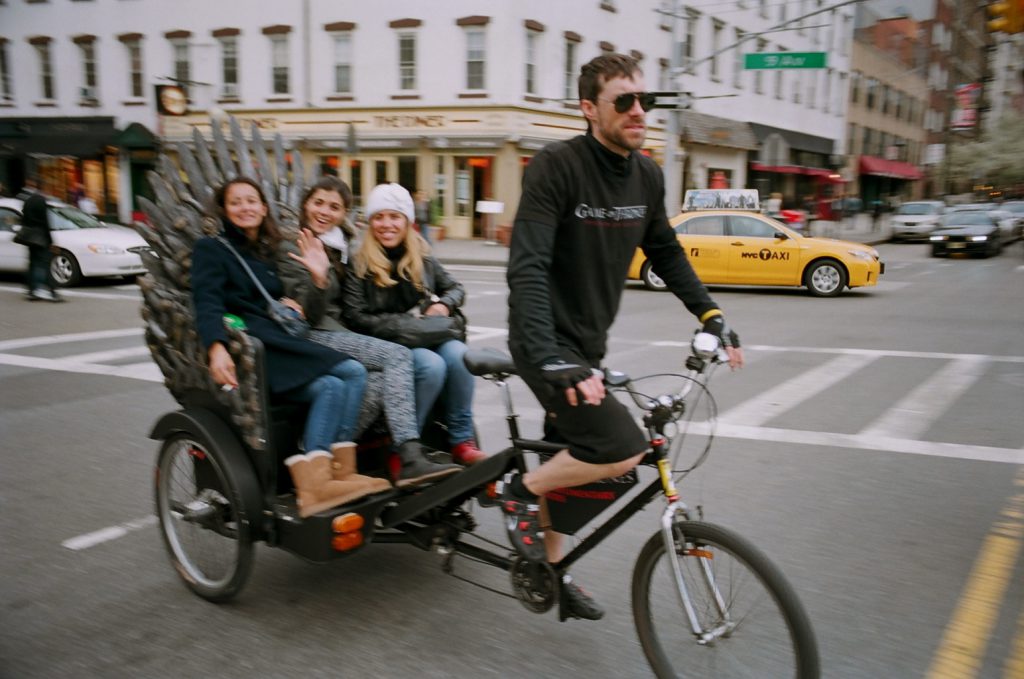 Pedicabs can serve real transportation needs even in a fast-paced city like New York, more so in trying times for us (think of the blackout). It can also serve as a refreshing pause from the pace of life. Most pedicab drivers in NYC are dedicated to the positive effects of pedicabs and appreciate the unique role they play in the city. In fact, some are out and out passionate about pedicabs!
Some drivers are very concerned about making money, which is a valid concern, but it's no fun to be worried about money all the time while you're trying to encourage others to have fun on a pedicab. Try to keep things in perspective.
Pedicabs are a great way to meet people. Do you speak a foreign language? Pedicab driving is a great way to work outdoors, meet people and create street theater at the same time.
Equally, you must be able to follow traffic laws and signals and abide by the traffic flow as well as speak to your passengers in English. We have suggestions as for passenger fares, but ultimately the pricing of rides is up to the driver based upon number of passengers (limited to 3 by law and by our insurance), route, weather and other conditions. Please have a valid U.S.-issued motor vehicle license, which is our standard of driver qualification for several years now.
We simply ask that you tell the passengers the price ahead of time as a courtesy and as an ethical business practice. Most rides are typically $25-40.00 for two passengers for short distances. Longer rides or tours are quoted differently and can involve guided tour content. We provide stopwatches on our fleet so that you can measure time not distance as you ride. Several of our drivers have taken and passed the NYC tour guide licensing program. This option will be discussed with you if you have an interest in expanding your earning potential. It's a tremendous way to combine content with transportation at a perfect pace for sightseeing.
Visit the licensing site maintained by the Department of Consumer and Worker Protection (referenced on our Links page) for more information about obtaining your license.