Media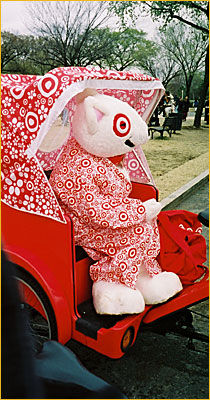 Check out a special video report on pedicabs on WB 11.
We were used as the business model for the March 11, 2004 epoisode of NBC's hit TV show, The Apprentice.
Media Life interviewed Manhattan Rickshaw's entrepreneur, Peter Meitzler, for an informative article about advertising on pedicabs.
The New York Times wrote about pedicabs as a means of employment in "No Longer Jobless, but Probably Tan", on September 22, 2002.
Pedicabs at special events -- a sample.
Emotional Branding: The New Paradigm for Connecting Brands to People discusses new marketing techniques, including the use of rickshaws as an advertising medium.
Romantic N.Y.: 165 Romantic Things to See and Do in New York says our pedicabs are a great alternative to the standard horse-drawn carriage ride.