Links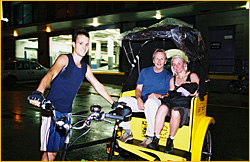 Manhattan Rickshaw Company uses state of the art pedicabs built by Main Street Pedi-Cabs.
For more information about bicycling advocacy and environmental organizations, click on the following:
Friends of the High Line is a 501(c)(3) non-profit organization dedicated to the preservation and reuse of the High Line, an elevated rail structure on the West Side of Manhattan. Manhattan Rickshaw Company is a big believer and supporter of this project.

Our website is designed and maintained by Electric Color. Contact them for the best in website development, programming, multimedia, graphic design, music and more, check them out.
Chasing Rickshaws, by Tony Wheeler and Richard I'anson, contains interesting history and lovely images of pedicabs in Agra, Calcutta, Hanoi, Macau, Penang, Singapore, Beijing, Dhaka, Hong Kong, Manila, Rangoon and Yogykarta. Amazon.com calls it "a splendid homage to a transportation tradition."
Emotional Branding: The New Paradigm for Connecting Brands to People discusses new marketing techniques, including the use of rickshaws as an advertising medium. It also contains photos of our vehicles! Amazon.com says it's "a visionary approach to building powerful brand loyalty, this groundbreaking book shows marketers of any product or service how to engage today's increasingly cynical consumers on deeper emotional levels."
Romantic N.Y.: 165 Romantic Things to See and Do in New York says our pedicabs are a great alternative to the standard horse-drawn carriage ride. Amazon.com calls this work "a simple, clear, yet evocative guide to what makes New York so unique, so magical. In addition to being the definitive guide to what lovers want most -- dazzling views; picnic places; fireside dining; secret gardens, and romantic excursions on water -- the book pays homage to the romantic nature of the city itself."

Truck-Lite, a New York State-based leading supplier of lighting systems, which Manhattan Rickshaw uses to customize its fleet.
Great Outdoor Network is a free online resource tool for Outdoor Advertising. Top outdoor media companies across the US.use Great Outdoor Network to get their message across.
The work of Matt Brown, our logo artist, can be viewed at www.ooloopress.com. Limited edition prints of our pedicab logo may be purchased through his website.